BLISS TES Bolometer Progress
The background limit for spectroscopy from the cold space telescope is the most challenging detector application ever encountered at these wavelengths. The required noise-equivalent power (NEP) for BLISS detectors is a few e-20 W / sqrt(Hz), 1.5-2 orders of magnitude lower than for CMB or other broadband applications. see NEP figure

However, we have been making excellent progress in this direction. The approach is to use bolometers with very low thermal thermal conductivity (G in W / K).

Some example micrographs of these devices are shown here (click on image for full-size version):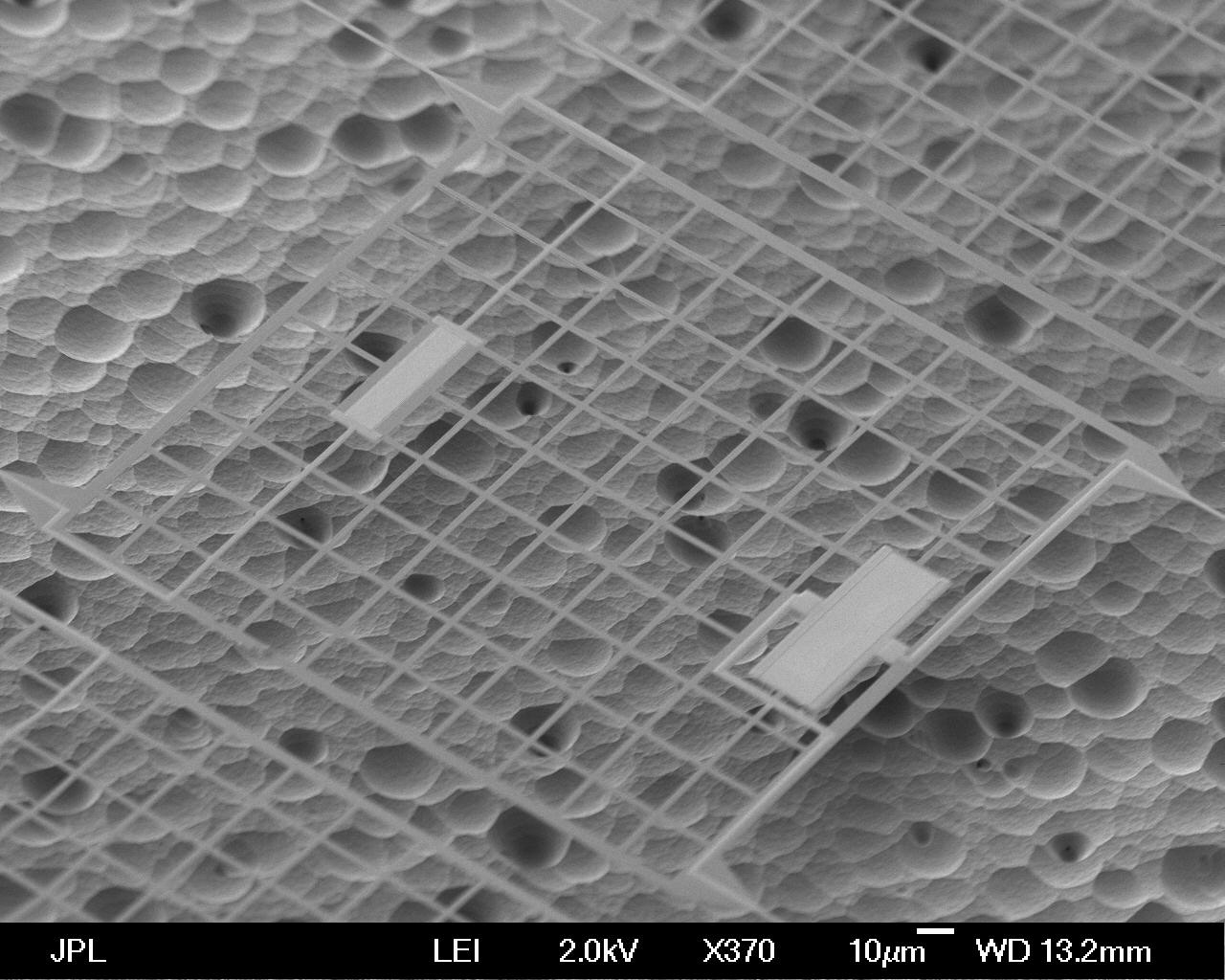 This device consists of a 0.25-micron thick SixNy absorber with lateral dimensions of 200 microns. The support beams are 700 microns long by 0.25 microns thick by 0.5 microns wide. Based on our measurements of previous devices, they should have a thermal conductance of ~20 fW/K at 70 mK. On the absorber are two resistors, one is coupled to a SQUID and is used as a Johnson-noise thermometer. The other is used as a heater; it is connected to a voltage supply and to allow heat pulses to be applied.
The G values for similar detectors have been measured, and are consistent with a NEP of 6e-20 W / sqrt (Hz) :
More information on this can be found in the Kenyon et al. paper from the low-temperature detectors (LTD) conference.
A concern with the very-low-G bolometers is their speed. The low G makes a long time constant according to &tau = C / G. As G is reduced, the heat capacity C, must also be reduced in order to produce a useful detector. Our recent result has been to show that the devices pictures above have sufficiently low heat capacity to enable a fast enough detector:

This figures shows the thermal relaxation of the devices after absorbing radiation pulses. The temperature is measured with Johnson noise thermometry.

This shows the resulting &tau calculated from the above measurements, plotted here as a function of temperature. A natural &tau less than 1 second is suitable for BLISS, because the voltage-bias electrothermal feedback reduces the effective &tau.