Cahill Logistics
California Institute of Technology
Cahill Center for Astronomy and Astrophysics
1216 E California Blvd, Pasadena, CA 91125
Voice: (626) 395-6608 Fax: (626) 395-2366
---
Summary of logistical items for those visiting Submillimeter Astrophysics, Observational Cosmology, TAPIR Group, Caltech Astronomy at the Cahill Center for Astronomy and Astrophysics
Cahill Location
The Cahill Center for Astronomy and Astrophysics is located on the South perimeter of the Caltech Campus, at 1216 E California Blvd, adjacent to the Keith Spaulding Bldg and the Caltech athletic facilities (Google Maps link).

The Cahill center was designed by Thom Mayne's architectural firm Morphosis (see the Morphosis Cahill summary), and dedicated in January 2009. Most consider Cahill striking in its architecture, and is described as "impossible to miss" (and otherwise) in this architectural review in the Los Angeles Times.
Cahill Meeting Locations
Parking
For non-Caltech visitors, the biggest logistical issue will be parking.
Cahill is in close proximity (~50 m) to Caltech's Parking Structure #3. Parking in Structure 3 requires a parking pass—of either the Caltech or visitor variety. Visitor parking passes can be obtained at various places around campus—the most convenient being the auto-kiosk at the SE corner of Structure 3 (pictured below).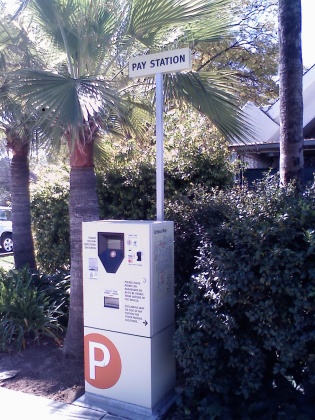 Auto-Pay Kiosk/Parking Structure 3
For more parking information please see:
Other Logistics Items
Though not directly relevant to Cahill, here are some other items (e.g. dining, lodging, local attractions) that may facilitate or enrich your visit:
Note: Special thanks to COO. I used their Visitor webpage to create this template. – Sheri
Webmaster: Sheri K Stoll